Industrial inline duct fan ventilators, inline tube axial and vane axial blower fans. Sales of large industrial vaneaxial and tubeaxial ventilators, fans and blowers.

DUCT FANS
Canada Blower duct fans are best suited for applications with low pressure characteristics. These versatile and dependable fans can be used to remove fumes, dirt-laden air, steam, hot air, and smoke; or to supply air for cooling, drying, and general ventilation. They are well suited for air moving applications requiring high flow and low to medium pressure where adjustable pitch blades allow fans to be accurately set.
Duct Axial Fans
Canada Blower Axial fans are ideal for applications where static pressure requirements fall between those of a low-pressure duct fan and a vaneaxial blower. Type DA Duct Axial Fans combine the best features of the rugged, highly efficient vaneaxial blower and the economical performance of the duct fan providing maximum efficiency in the static pressures.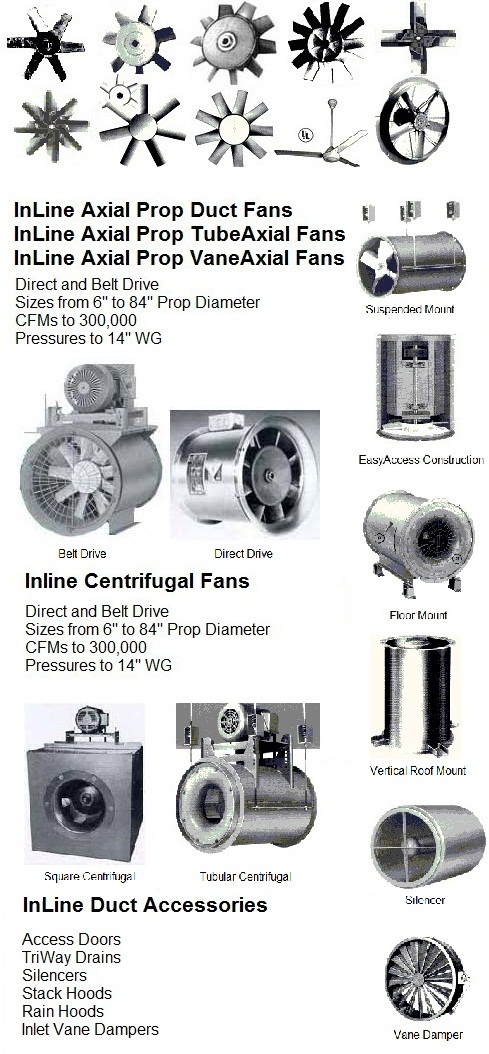 Engineering of through the wall exhaust fans, airflow exhaust ventilators, fume hood exhaust fans, roof / wall supply blowers, paint booth ventilation fans, high pressure air blowers, air pressure blowers, high temperature air blowers, rotary air blowers, air fan-blowers systems, roof blowers, roots blowers, oven / dryer exhaust ventilators, heavy-duty ventilation fans, spray booth exhaust fans, New York blowers, Dayton fans, Chicago blowers, American Coolair ventilators, ACME ventilators, Twin City fans, Aerovent fans, Cincinnati blowers.
Engineering of air moving and industrial ventilation equipment, combustion blowers, material handling and pneumatic conveying fans, inline direct & belt driven ventilators. Distributors of Chicago Blower, American Coolair / ILG NYB TCF fans, wall & roof exhaust and supply power ventilators, panel propeller fans, gas-fired direct and indirect make-up air handling units AHU, air curtains and blow-off air knives and air-knife systems, fan silencers, corrosion-resistant ventilators, positive pressure ventilators, mobile macoolers, reversible duct ventilators, fan dampers and louvers.
Canada Blower airfoil fans are available standard in three construction classes to meet every application requirement.
Canada Blower
backwardly inclined (BI) fan blowers and aerofoil (AF), acoustafoil (AcF), or aerocline fan blowers from New York; with high temperature construction, low leakage, 87 % efficiency, stainless steel SS316, SS316L, SS304, aluminum construction, spark resistant construction, monel construction. Supply of replacement backward inclined (BI) fan blowers and airfoil (AF), or acoustafoil (AcF), or Aerocline fan blower parts for backward inclined bi fan blowers manufactured by Buffalo Blower / New York Blower, Twin City Fan, Northern Blower, Chicago Blower, Sheldons, Cincinnati Fan, Hartzell, IAP, Industrial air products, Canadian blower, Howden Buffalo, Penn Ventilation, Penn-Barry, Barry Blower, ACME, Aerovent, Alphair, American Fan, Lau Industries, Clarage, Delhi, Canarm, Leader Fan, Daltec, ABB, Flakt, Flaktwoods, Woods, MK Plastics, Robinson Industrial, Garden City Fan, Loren Cook, Jen-air, Jenn Fan, Aeroflo, Grainger, Greenheck, Kice Fan, ILG Industries, Canada Fan, Industrial Air, Ceilcote, Breidert
;
Canada Blower
high pressure and high temperature pressure blowers.
A hazardous location air exhaust / ventilation fan (sometimes called explosion proof) may be required in any area where the presence of flammable gases, vapors or finely pulverized dust in the atmosphere is sufficient to create a threat of an explosion or fire. It may also be required where easily ignitable fibers or flying's are present. The following information is a representative, but is not an all-inclusive, list of the types of locations and operations that require hazardous location air exhaust / ventilation equipment in at least certain areas. Consult the current National Electric Code® for complete and current information.

Tough applications mean tough fans and blowers by Canada Blower Co. Canada Blower is a world wide distributor of industrial process ans OEM fans and blowers, as well as fan / blower components; including high pressure blowers, high temperature fans, spark resistant and explosion proof ventilators, tubeaxial and vaneaxial high pressure ventilators. Canada Blower also does existing fans and blowers repairs, re-build, as well as dynamical wheels balancing.

Typical Class I Locations Include:

• Petroleum refining facilities
• Dip tanks containing flammable or combustible liquids
• Dry cleaning plants
• Organic coating manufacturing plants
• Paint spray booths
• Spray finishing areas (residue must be considered)
• Petroleum dispensing areas
• Solvent extraction plants
• Plants manufacturing or using pyroxylin
• (nitro-cellulose) type and other plastics
• (Class II also)
• Locations where inhalation anesthetics are used
• Utility gas plants and operations involving storage and handling and liquefied petroleum and natural gas
• Aircraft hangars and fuel servicing areas

Typical Class II Locations Include:

• Grain elevators and bulk handling facilities
• Magnesium and aluminum powder manufacture and storage facilities
• Starch manufacture and storage facilities
• Fireworks manufacture and storage facilities
• Flour and feed mills
• Pulverized sugar and cocoa packaging and handling areas
• Coal preparation and handling facilities
• Spice grinding plants
• Confectionery manufacturing plants

Typical Class III Locations Include:

• Woodworking plants
• Textile mills
• Cotton gins and cotton seed mills
• Flax producing plants