Industrial high pressure heavy duty centrifugal fans, blowers, ventilators. Sales of scroll cage centrifugal and radial bladed pressure blowers, high temperature centrifugal and axial fans.


Centrifugal blower has a number of blades mounted around the hub, which turns on a shaft that passes through the housing.

A Centrifugal fan can come in three different types of fan blades. They can come with forward curved blades, backward curved blades and straight radial blades. The type you need will come down to what the conditions are within the area in which you intend to use the device.

Canada Blower Square Direct Drive Centrifugal Fans combine the performance and efficiency of Canada Blower's versatile "Square" fans with the advantages of a compact directly driven arrangement. With the fan wheel mounted directly onto motor shaft maximum efficiency is constantly maintained. Belt noise, power loss, maintenance and troublesome adjustments are eliminated.

Canada Blower's Direct Drive Fan is available with both airfoil and flat blade backwardly inclined wheels. With the choice of two types of wheels application duty can be matched precisely. Also, the different performance characteristics of the two fan wheels allow for a wider performance range at standard synchronous motor speeds. The compact SQAD / SQBD fans are used in diverse OEM applications, from packaged forced air and dust collection systems to pressurizing and aeration installations.

The proficiency gained as a leading supplier of industrial and custom heavy-duty fans is reflected in the rugged constructionof all Canada Blower built fans. It's called "Industrial Quality" and guarantees exceptional performance and reliability.

When inquiring about purchasing a centrifugal fan you will more than likely need someone from the company in which your purchasing the fan to come and take a look at the conditions the fan will be placed and also to check what kind of air pressure there is within the area.

The size of the area in which the centrifugal blower is to be used will obviously play a major part in the decision of how large it needs to be and how much air it can actually blow through the area. There are many different sizes that you can get to cover any area but depending on your circumstances you may need more than one to do the job adequately.

The type of air that is in the premises will also play a large role in which type of Centrifugal Blower you need. If the centrifugal fan is to be used in an area where the air conditions are standard then no adjustments will need to be made to the actual fan itself. On the other hand if you are going to operate the fan in other types of air density then adjustments can be made to the static pressure and brake horsepower.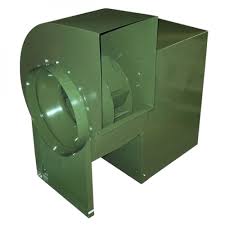 Engineering of Twin City Aerovent fans, CBC Chicago Blower fans, Acme fan ventilators, New York Blower, ILG American Coolair fans, fans for building ventilation, industrial high temperature oven fans, furnace blowers, leader ventilators, Delhi fans, negative pressure ventilators, USA industrial fas blowers, explosion proof pressure blowers, blower air knives, high temperature pressure blowers.
Canada Blower Company fans are well know for their highest manufacturing quality, reliability and industrial toughness for many years across the world.

Canada Blower SQA Airfoil Centrifugal Fans are the most popular general ventilation fans because they fulfill most commercial general industrial air moving needs. With its airfoil wheel and square housing design, the SQA fan is efficient , economical and versatile.

With pressures to 15" WG and volumes to 55,000 CFM, the range of the SQA / SQB Centrifugal Fans cover the most popular general ventilation systems need and typical mid-range OEM air-moving machinery designs. Canada Blower "Packaged" fans, those furnished with motor, V-belt drive, belt guard and other options, are factory aligned, run tested and shipped ready to install. By eliminating jobsite assembly, the packaged SQA fan can substantially reduce overall installation cost.

The compact Canada Blower SQA / SQB fans are used in diverse OEM applications, from packaged forced air and dust collection systems to pressurizing and aeration installations. Put Canada Blower experience and "Industrial Quality" fan / blower building experience to work for you.

Direct Drive Canada Blower SQAD / SQBD fans combine the performance and efficiency of Canada Blower's versatile "Square" Fans with the advantages of a compact directly driven fan arrangement. With the fan wheel mounted directly onto the motor shaft maximum efficiency is constantly maintained. Belt noise, power loss, maintenance and troublesome adjustments are eliminated.

Canada Blower's Direct Drive Fan is available as a SQBD with backwardly inclined fan blades in addition to the airfoil bladed SQAD. With the choice of two types of fan wheels application duty can be matched precisely. Also, the different performance characteristics of the two fan wheels allow for a wider performance range at standard synchronous motor speeds. The compact SQAD / SQBD fans are used in diverse OEM applications, from packaged forced air and dust collection systems to pressurizing and aeration installations.

FAN OPTIONS:

- Housing drain

- Quick clamp door

- Spark resistant construction

- Inlet screen

- Shaft seal

- Slip fit inlet

- Punched flanged inlet

- Punched flanged outlet

- Inlet volume control damper

- Cast aluminum wheel

- Narrow width construction

FAN DESIGN FEATURES:

Rugged housing

Rigid motor base

Four discharge positions

Streamlined inlet

Factory run tested

AMCA certified fan performance

VENTILATOR OPERATING RANGE:

* Maximum CFM: 40,000

* Maximum Static Pressure: 21" wg

* Maximum Temperature: 180°

* Fan Sizes: 8-3/4 to 36